Menu Choices
The Six Wives of Henry VIII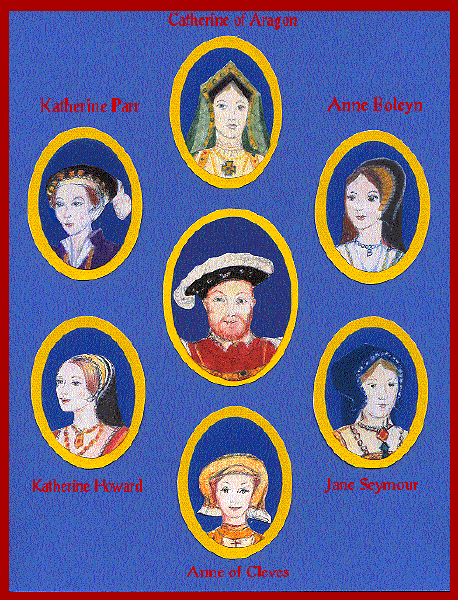 Welcome to the Henry VIII historical paper doll web page!
This site features paper dolls of King Henry the Eighth of England and his six Queens. A short biography and a set of paper images is provided for Henry and each wife. To complete the package, a Henry doll is included.
Each of the Queen dolls except Catherine of Aragon has three costumes, plus a doll wearing undergarments that you can dress. Catherine of Aragon has four costumes. Since she spent the longest time as Queen of any of Henry's wives, there are two Catherine of Aragon dolls to represent both youth and middle age.
Some people might like a fully-dressed doll for display or educational purposes, while others might prefer a traditional paper doll to dress. Both types of dolls are provided on each Queen's paper doll page.
The picture above shows King Henry VIII, surrounded by his various wives. Henry's wives are, clockwise from the top of the portrait:
| | |
| --- | --- |
| | Catherine of Aragon, Henry's first wife. Catherine, a Princess of Spain, was married to Henry for many years. Her determination to stay married to Henry, in the face of his desire for Anne Boleyn, would change the course of history forever. |
| | Anne Boleyn, Henry's second wife, and the mother of Queen Elizabeth I. Henry fell passionately in love with Anne while married to Catherine of Aragon. He waited several years to marry Anne, but, ironically, lost his desire for her once she became his Queen. |
| | Jane Seymour, Henry's beloved third Queen. Gentle, capable Jane gave Henry his long-awaited male heir after one year of marriage. Sadly, she gave her life to do so. |
| | Anne of Cleves, Henry's fourth wife. This German princess served as Queen for only a few months before she and Henry agreed to divorce by mutual consent. |
| | Katherine Howard, Henry's fifth wife. Henry's marriage to this sensuous teenager brought him brief happiness, but ended in tragedy. |
| | Katherine Parr, Henry's sixth Queen. This intelligent, loyal, forward-thinking Renaissance woman outlived three husbands, including Henry, and went on to finally marry the man of her choice. |
To visit a particular Queen's paper doll page, or Henry VIII's page, you may do any of the following:
| | |
| --- | --- |
| | Click on the portrait above whose paper doll page you would like to visit, or, |
| | Click on the navigation bar at the left of the screen to access the paper doll and biography you want, or, |
| | Click on any of the links below for the Queen or King paper doll page you want to see. |
I hope you enjoy these dolls and biographies. You are welcome to print these paper images free of charge for your own personal enjoyment and education. Any other use, including commercial use, and reproduction or publication in other works, is not allowed.
New!! Now Introducing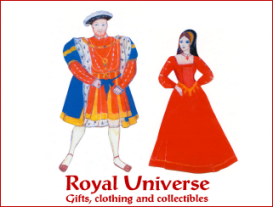 A unique new line of gifts, clothing, drinkware & collectibles, featuring Henry VIII & his wives!
The six wives of King Henry VIII are now featured on an exciting new line of merchandise, available from www.cafepress.com! Now you can enjoy colorful images of Henry VIII & all of his Queens, created by Laurie Sebastian, on:
| | |
| --- | --- |
| | T-shirts & tank tops |
| | Tote bags |
| | Coffee cups, mugs, steins & coasters |
| | Mouse pads & note cards |
To see everything we offer at our Royal Universe shop, click on the picture above, or on the link below:
Here are some great links to other Tudor and Renaissance England Web sites:
| | |
| --- | --- |
| | Tudor England at Suite 101.com: A wonderful Web site by Wendy Dunn that contains very interesting and useful information, articles and links about Tudor England. This is one of the best-organized sites I've ever seen. You'll find lots of good Web sites about Henry VIII and the Tudor dynasty listed here. |
| | Renaissance England: A fantastic, multifaceted Web site with exciting graphics and tons of fascinating information about the people and events that shaped the Renaissance period of English history. Lots of great articles, links and fun items of interest about King Henry VIII, the Tudors, the Stuarts, and other famous people of the time. |
| | British History for Kids: A great resource about British history for kids and adults alike. An enjoyable way to introduce young folks to history, and a great place to find homework information sources. This Web site has a wide variety of articles, stories, book lists, links, learning tools, and fun things about England's past. There is a lot of good information about the Tudors here. I really enjoyed my visit to this site. |
| | Tudor History: This site contains biographical information on people during the Tudor period (1485-1603) of English history, as well as calendars, glossaries, maps, genealogical trees, information on life during the period, Tudor architecture and more. There are also pages on Tudor history in today's world, such as recent discoveries in the news, new books and movies. Connect to others with similar interests through the mailing list and pen pal pages. |
| | The About Women's History Guide: Tudor Queens and More Women of Tudor England: This Web site is a great place to find interesting links about the lives of Henry VIII's wives, children and ancestors. You will also find good information about the Tudor royal marriages, the Tudor family tree, and succession issues related to the Tudor dynasty. |
| | The Tudor House: Fine English Furniture: This web site is a wonderful resource featuring fine hand made reproductions of traditional English furniture from the early Tudor to the late Georgian periods of history. A great place to find out more about how the Tudors really lived. This site also has a great Links page. |
To read more about Henry VIII and his wives, and about the British monarchy and Tudor history, please click on this link:
To return to the Royal Paper Dolls Home Page, please click on the link below:
Note: All paper doll art work was done by Laurie Sebastian, using pencil, charcoal and pastels. The Web Site was constructed by Laurie Sebastian using Microsoft Front Page.