The Six Wives of Henry VIII
King Henry VIII of England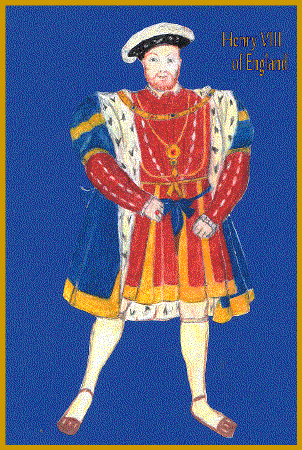 King Henry VIII ruled England for almost four decades. His reign began in 1509, and ended with his death in 1547. This period was one of the most colorful in British history, in large part due to Henry's matrimonial adventures. In addition, a great deal of religious, political and social change occurred during this time.
Henry VIII was a true Renaissance prince. He was intelligent, handsome, artistic, adventurous, athletic and devoted to learning. He also wanted absolute power. He was a complex man, ruled by his conscience, which he conveniently flexed to suit his needs.
Henry's reign saw relative stability and prosperity. Henry's ministers guided the country through the dangerous web of European politics. With the exception of Scotland, England was never invaded by an outside force during Henry VIII's rule.
Unlike his father, the grim-faced Henry VII, Henry VIII enjoyed immense popularity with his subjects. The English people had always loved glamorous, outgoing, larger-than-life characters, and preferred a ruler with those attributes that they could look up to and admire. Henry fit the bill to a tee. He created a brilliant, exciting Court befitting his image as one of the most powerful rulers in Christendom, and dressed himself and his family in the most extravagant riches. He loved elaborate tournaments and athletic competitions, and strove hard to win. To support this lifestyle, Henry depleted most of his father's carefully built-up treasury. However, he made up for his lavish spending by confiscating the immense wealth of various English religious houses, in the name of religious reform.
Henry was an enthusiastic patron of the arts, and became an accomplished musician and songwriter. He loved to dance, and was very fond of pageants and theatrics. He particularly liked to dress up in disguise and "surprise" people by pretending to be someone else. Masquerades became very popular in King Henry's time.
One of the major driving forces of Henry VIII's life was the desire for a son to succeed him. This obsession was to play a major role in the history of the world, and was largely responsible for Henry's marriages to a multitude of wives. It was not until his third marriage that Henry's dream of a son and heir came true.
Henry married his first wife, Catherine of Aragon, when he first came to the English throne at the age of 17. Catherine was a Princess of Spain, and bore Henry a daughter named Mary. Catherine was attractive, intelligent, scholarly, artistic and devoted to Henry. For the most part, the marriage was happy. The two were very compatible, and shared a love of learning and the arts. The couple's main unhappiness stemmed from their inability to have more children, particularly a son.
King Henry divorced Queen Catherine after 23 years of marriage to marry his second wife, Anne Boleyn. Anne was a young English noblewoman who cast an incredible spell on Henry. Unlike the aging, religious Catherine, Anne was glamorous, brilliant and exciting, with a style all her own. She refused to be Henry's mistress, and insisted on being Queen. Henry desperately wanted a divorce from his first wife, but neither Catherine nor the Pope would consent to annul the marriage. After six years of frustration, Henry was forced to break with the Roman Catholic Church, and to declare himself Supreme Head of the Church of England, to obtain a divorce from Queen Catherine.
Henry married Anne and crowned her Queen of England. Anne promised Henry many sons, but failed in her mission. She did give birth to a daughter, Elizabeth, who would one day turn out to be one of the greatest monarchs the world had ever known. After several failed pregnancies, including the stillbirth of a son, Henry decided to get rid of Anne. Henry felt that he was no better off than he had been with Catherine, and at such a cost.
Henry's marriage to Anne Boleyn had turned sour soon after the wedding, even before Elizabeth's birth. All those years of waiting to be married had taken their toll on both parties, and brought out the worst in Anne's volatile, tempestuous nature. Henry expected Anne to be grateful to him for making her Queen, in view of all the sacrifices he and so many others had made. Anne, in turn, was tired and irritable, and did not always control her temper with Henry. Anne's failure to bear a son was the final straw.
Not long after Anne became Queen, Henry fell in love with a court lady-in-waiting named Jane Seymour. Jane was a pale, quiet, modest young woman from an old noble English family. Jane was very different from Anne Boleyn, and Henry took comfort in Jane's calm, soothing presence. Henry soon decided he wanted to remove Anne and marry Jane, and continue his quest to produce a son.
After all the country had gone through so that Henry could marry Anne Boleyn, he couldn't simply divorce her and marry Jane. He asked his advisors to help him end the marriage without it reflecting badly on him. The solution was to accuse Anne of crimes so outrageous that she could be charged with treason and put to death. Anne was arrested on the false charge of adultery with five men, including her own brother. She was also accused of plotting against the King's life, and of snaring Henry via witchcraft. A jury of Henry's supporters found Anne and her five supposed lovers guilty of all charges, and all were executed. There was outrage at the injustice of Queen Anne's death, but Henry retained his popularity.
A few weeks after Anne Boleyn's death, Henry married Jane Seymour. Jane gave Henry a calm and peaceful home life. Even better, she gave birth to Henry's long-awaited son Edward after one year of marriage. Henry was thrilled beyond belief, and looked forward to many happy years with Jane and their children.
Unfortunately, that was not to be. Jane died shortly of childbed fever shortly after Edward's birth. Henry was devastated by Jane's death, but within two years, he was seeking a new wife to replace his beloved third Queen. Henry still hoped for more children, and enjoyed being married. His chief minister, Thomas Cromwell, was given the task of finding a replacement for Queen Jane.
Cromwell found several candidates within the royal houses of Europe, and had their portraits painted for Henry's inspection. One of the portraits that pleased Henry was that of Anne of Cleves. Anne was a German princess of the ruling house of Cleves. She was in her early twenties, and was reported to be attractive. Unlike Catherine of Aragon or Anne Boleyn, Anne of Cleves was not highly educated, athletic, or gifted in the arts. She was brought up to run a royal household and to serve her husband.
Henry decided to marry Anne of Cleves. His decision was based on her picture, and the desire to form an alliance with Protestant Germany. Anne of Cleves came to England with her German entourage. While en route to London to meet her bridegroom, she received a surprise visitor. Unbeknownst to her, it was Henry, disguised as a messenger. He wanted to see Anne without her royal trappings, and to gauge her reaction to Henry as a man rather than a King. Unluckily for both, the meeting was a disaster. Anne wasn't particularly excited about her fat, aging visitor, and Henry claimed to find Anne most unattractive. The feeling was probably mutual. Henry indicated that he felt trapped in his impending marriage to this "Great Flanders Mare".
To save face, and to preserve the German alliance, Anne and Henry were married. The marriage, however, was not consummated, probably by mutual agreement. Since this arrangement would never produce children, Henry soon began looking for a way out of the marriage without offending the German states. He and his advisors decided to approach Anne with the idea of annulling the marriage, based on a supposed "pre-contract" (previous betrothal) between Anne and the Duke of Lorraine. This was not entirely false, as negotiations had once taken place for a possible marriage between Anne and the Duke.
Anne was not particularly happy in her marriage to Henry, but did not want to go back to Germany. She liked England, and enjoyed Henry's children. To Henry's surprise and delight, she readily agreed to a divorce. She consented to help smooth the way by writing to her brother, and explaining her willingness to end the marriage. In turn, Henry was prepared to be generous. Because of Anne's cooperation, Henry gave her estates and income, and provided for her in grand style. Anne was given the title of "Henry's Dear Sister", and took precedence over most of the ladies at Court. After the divorce, Anne lived a happy country life, coming to court on occasion to visit Henry and his family. She was generous, amusing, and loved by all. Henry began to appreciate her many good qualities, and the two became close friends.
While in the process of divorcing Anne of Cleves, Henry's attentions fell on a pretty young lady-in-waiting of the Queen. She was Katherine Howard, the niece of one of the highest-ranking noblemen in England, the Duke of Norfolk. The Duke saw an opportunity to gain power and prestige by placing one of his family on the soon-to-be-vacant throne of the Queen of England, and brought young Katherine to Court.
Katherine was still in her teens when Henry fell in love with her. By contrast, Henry was in his late forties. He was very obese, and troubled by an ulcerated leg. He also suffered bouts of depression. Katherine provided youth and cheer, and Henry was dazzled by her beauty. Coached by her family, Katherine learned to flatter and flirt with the aging King, and to make him feel desirable.
The Howards assured Henry that Katherine was pure and innocent, and had never been involved with another man. Unfortunately, all this was untrue. Katherine had had two lovers while growing up on her step-grandmother's estate. She had fully consummated her relationship with one of them, amidst promises of marriage. Various members of the household knew about Katherine's indiscretions. For some reason, however, Katherine kept silent about her past, allowing Henry to think that he was her first and only lover. This was to prove a huge mistake.
Katherine Howard was petite, attractive and amiable, but not known for her good sense or judgment. Unlike Henry's previous consorts, Katherine could barely read or write. To help with her correspondence and paperwork, Katherine hired a personal secretary. She did not, however, make a very wise choice. She hired her former fiancÚ, Frances Derham, to be her secretary.
Henry and Katherine's marriage went along fairly smoothly for about a year. He was enchanted with her, and she enjoyed being Queen. She was particularly delighted with the power and riches that came with Queenship. Soon, however, material wealth and prestige gave way to boredom for young Katherine. She began to flirt with Thomas Culpeper, one of the King's household gentlemen. Apparently Culpeper, a distant cousin of Catherine's, initiated the affair. The flirtation eventually led to a physical relationship, conducted in secret.
Henry had no idea of what was going on behind his back. After about a year of marriage, however, rumors began to surface about the Queen's past. There were many in England who felt threatened by the power and influence held by the strongly Catholic Howard family. Having a Howard Queen on the throne was a potential danger to these people. The Protestant religious reformers were particularly disgruntled. They feared a possible return of the English Church to Roman Catholicism.
One of these reformers had a sister who had known Katherine Howard in her youth. This woman told her brother about Katherine's past love affairs, and the brother paid a visit to the Archbishop of Canterbury. The Archbishop, Thomas Cranmer, sympathized with the reformers, and listened to the story of Katherine's past adventures. After investigating the news, and determining that the story was true, Cranmer gave the information to King Henry.
At first, Henry refused to believe that his lovely young bride had been involved with other men before she met Henry. He agreed to a fact-finding mission, which confirmed the news. The fact that Katherine's private secretary was one of her lovers was damning evidence in itself. Henry became furious at Katherine's deception, and his anger turned to depression.
At this point, he still knew nothing about Thomas Culpeper's current affair with the Queen. Soon, however, that relationship came to light. Members of Katherine's household began telling tales of private meetings and secret messages passed between Culpeper and Queen Katherine.
Henry was angry enough about Katherine's past, but was inclined to spare her life. The new revelations about Katherine and Culpeper, however, spelled High Treason. Katherine's affair with Culpeper threatened not only the King, but the entire succession to the English throne. Culpeper and Frances Derham were arrested and charged with treason. The Queen's arrest soon followed.
Katherine was found guilty of treason against the King, as were her lovers. She was executed in 1542. She was probably not even twenty years old. Henry was plunged into misery, and never fully recovered from the heartbreak of Katherine Howard.
Despite his poor record with matrimony, Henry was not ready to give up on marriage. At this point in his life, he was in his early fifties, and wanted a quiet, stable home life. He also needed a nurse for his worsening leg ulcer. About two years after Katherine Howard's death, he developed an interest in a young widow who had been frequently at Court with her late husband. Katherine Parr was attractive, intelligent, personable, and motherly. She had outlived two husbands, and was only thirty-one years old. Henry thought she would be a good candidate for his sixth wife.
Katherine was looking forward to marrying the man of her choice, Thomas Seymour, when Henry came courting. She had no intention of being another of King Henry's Queens, but did not know how to say "no" to her sovereign. At this point, Henry wanted a wife, not a mistress. Katherine reluctantly agreed, and married Henry in 1543.
The marriage was fairly happy, all things considered. Katherine Parr, who leaned towards religious reform, entertained the King with intellectual and philosophical discussion. She also nursed his leg wound. Henry found much stimulation and comfort in her company. Her step-children, Elizabeth, Mary and Edward, adored her. Katherine alienated some Catholics with her religious bent, and came close to endangering her position when she argued with Henry about theology. All was forgiven when she insisted she was only trying to give Henry a diversion from the pain in his leg.
Henry and Katherine Parr were married for three years, until Henry's death in 1547. The cause of Henry's death has been debated for centuries. The prevailing view nowadays is that he died from lung and circulatory ailments that probably plagued him for years. Extreme obesity was most likely a contributing factor. Katherine was truly saddened by her husband's death, as she had grown fond of him over the years.
Henry's death left Katherine one of the richest, most influential women in England. She was also free to marry Thomas Seymour, which she did, in secret, three months after Henry's death. Sadly, she didn't have long to experience her newfound happiness. She died shortly after the birth of her first child.
The preceding narrative is a summary of King Henry's life and his six marriages. For those who are interested, a more detailed account of Henry's reign will soon be available.
The Henry VIII Paper Doll
The focus of this web site is on Henry VIII's six wives, who have at three or more costumes apiece. The Henry VIII paper doll was designed to function as a prop or accessory to the Six Wives paper dolls. He is fully dressed in an elaborate costume.
To print Henry VIII paper doll, please click on the small picture below. This will cause a larger version of the image to display. You can then print out Henry from that page. When finished printing, hit your back button to return to this page.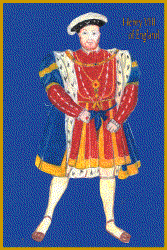 New!! Now Introducing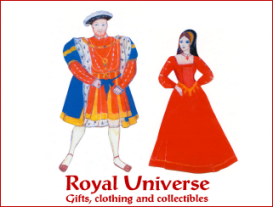 A unique new line of gifts, clothing, drinkware & collectibles, featuring Henry VIII & his six wives!
The six wives of King Henry VIII are now available on an exciting new line of merchandise! Visit the Royal Universe shop at www.cafepress.com to see the designs we offer on these products:
| | |
| --- | --- |
| | T-shirts & tank tops |
| | Tote bags |
| | Coffee cups, mugs, steins & coasters |
| | Mouse pads & note cards |
Additional Reading About Henry
For additional reading about Henry VIII and his wives and children, here are some books that may be ordered from Amazon.com.
To bring up the details about a particular book, please click on the underlined link beside the picture of the book you are interested in.

Henry VIII : The King and His Court by Alison Wier

The Autobiography of Henry VIII : With Notes by His Fool, Will Somers: A Novel by Margaret George

Henry VIII : Images of a Tudor King by Christopher Lloyd, Simon Thurley, Hampton Court

Six Wives of Henry VIII by Alison Wier

The Wives of Henry VIII by Antonia Fraser
The Children of Henry VIII by Alison Wier

The Sisters of Henry VIII: The Tumultuous Lives of
Margaret of Scotland and Mary of France by Maria Perry

The Tudors (A Royal History of England) by Neville Williams, Antonia Fraser (Editor)

The Lives of the Kings & Queens of England by Antonia Fraser (Editor)

The Kings and Queens of England and Scotland by Plantagenet Somerset Fry, Peter Fry
To return to the Henry VIII's Six Wives Paper Doll Page, please click on this link:
To return to the Royal Paper Dolls Home Page, please click on the link below:
I