The Six Wives of Henry VIII
II. Anne Boleyn
Anne Boleyn was the second of Henry's six wives. She was Queen of England from 1533 until 1536. She was one of the first non-royal women to become Queen of England, which caused quite a stir in those times. She was also the mother of Elizabeth I, one of the greatest monarchs in the history of England and of the world itself.
Anne Boleyn is one of the most unforgettable Queens of all time. She is remembered for her brilliance, glamour, elegance, and for the incredible hold she held on King Henry for such a long time. Anne also played a major role in England's split from the Roman Catholic Church, and in the creation of the Church of England.
To learn more about Anne, please click on the link below. You will find her story most interesting.
The Anne Boleyn doll has three costumes, plus a doll wearing underclothes that you can dress.
If you want to print the doll image that is wearing clothes, as opposed to the dress with tabs, click on one of the four pictures below. This will cause a larger version of the fully-dressed doll to display. You can then print out the doll from that page. When finished, hit your back button to return to this page.
If you want to see the traditional paper doll clothes with tabs, continue to page down below these first four images.
Dressed Doll Images
Below is a doll wearing underwear that you can dress in the traditional "tabbed" paper doll fashions provided. To view and/or print one of the images below, click on the picture to expand it, and print the doll or dress from that page. Then hit your back button to return to this page.
Doll to Dress & Doll Clothes
New!! Now Introducing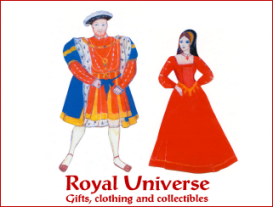 A unique new line of gifts, clothing, drinkware & collectibles, featuring Henry VIII & his six wives!
The six wives of King Henry VIII are now available on an exciting new line of merchandise! Visit the Royal Universe shop at www.cafepress.com to see the designs we offer on:
| | |
| --- | --- |
| | T-shirts & tank tops |
| | Tote bags |
| | Coffee cups, mugs, steins & coasters |
| | Mouse pads & note cards |
To see everything that we offer at our Royal Universe shop, click on the picture above, or on the link below:
Additional Reading About Anne Boleyn
For additional reading about Anne Boleyn, King Henry VIII, and Henry's other wives, here are some books that may be ordered from Amazon.com.
To bring up the details about a particular book, please click on the underlined link beside the picture of the book you are interested in.

Mistress Anne by Carolly Erickson

Dear Heart, How Like You This by Wendy Dunn

The Rise and Fall of Anne Boleyn: Family Politics at the Court of Henry VIII by Retha M. Warnicke

The Other Boleyn Girl by Philippa Gregory

Six Wives: The Queens of Henry VIII by David Starkey

Six Wives of Henry VIII by Alison Wier

The Wives of Henry VIII by Antonia Fraser

Divorced, Beheaded, Survived: A Feminist Reinterpretation of the Wives of Henry VIII by Karen Lindsey

Henry VIII : The King and His Court by Alison Wier
Navigate to Previous Site Pages
To return to the Henry VIII Paper Dolls Page, please click on this link:
To return to the Royal Paper Dolls Home Page, please click on the link below:
I