The Six Wives of Henry VIII
VI. Katherine Parr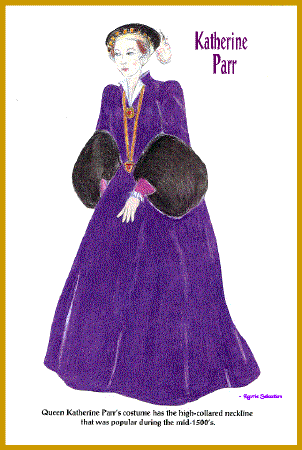 Katherine Parr was the sixth and final wife of King Henry VIII. She was Queen of England from 1543 until Henry's death in early 1547.
Although she was widowed twice before she married Henry VIII, Katherine Parr was not an old woman, as many people think. She was only 31 when she became queen. She outlived Henry, and left her mark on history through her influence on Henry's children, particularly Elizabeth I.
Katherine Parr's life is interesting and inspiring. To read her story, please click on the link below:
The Katherine Parr doll has three costumes, plus a doll dressed in underclothes. If you want the doll image that is wearing clothes, as opposed to the dress with tabs, click on one of the four pictures below. This will cause a larger version of the fully-dressed doll to display. You can then print out the doll from that page. When finished, hit your back button to return to this page.
Below are the same costumes, with tabs in the traditional paper doll style, that you can put on the doll that is wearing undergarments. Select the dress you want to see, click on the small picture to expand it, and print the dress from that page.
New!! Now Introducing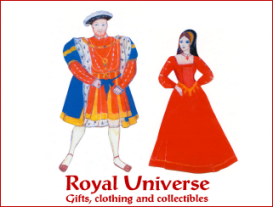 A unique new line of gifts, clothing, drinkware & collectibles, featuring Henry VIII & his six wives!
The six wives of King Henry VIII are now available on an exciting new line of merchandise! Visit the Royal Universe shop at www.cafepress.com to see the designs we offer on:
| | |
| --- | --- |
| | T-shirts & tank tops |
| | Tote bags |
| | Coffee cups, mugs, steins & coasters |
| | Mouse pads & note cards |
To see everything that we offer at our Royal Universe shop, click on the picture above, or on the link below:
To read more about Henry VIII and his wives, please click on the link below:
To return to the Henry VIII Paper Dolls Page, please click on this link:
To return to the Royal Paper Dolls Home Page, please click on the link below:
I