The Six Wives of Henry VIII
IV. Anne of Cleves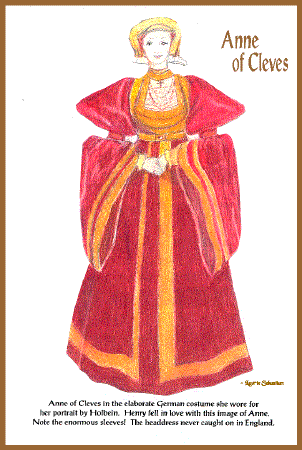 Anne of Cleves was Henry's fourth wife. She was a member of the German royal house of Cleves, and married Henry for political reasons. The marriage, which took place in the year 1540, lasted for only a few months.
Anne was a moderately attractive German princess in her mid-twenties when she came to England. She was reportedly kind, generous and intelligent. She was not, however, musically or artistically gifted, or highly educated beyond the domestic arts.
King Henry chose to marry Anne of Cleves sight unseen. He did see her portrait, which he liked. When Anne arrived in England, Henry was disappointed in his bride's physical attributes, and the marriage was never consummated. For reasons of state, he went ahead with the marriage, but was soon looking for a way out of the union. This was tricky, as Henry did not want to alienate the German states. Anne, however, was agreeable to a divorce. She wasn't particularly thrilled with the marriage herself.
Henry was delighted that Anne was so agreeable in this matter. To show his appreciation, and to keep the German alliance in place, he let Anne stay in England, and supported her in grand style. He even made her his honorary "sister". Everyone was happy with the arrangement, and Anne lived a content life on her country estate.
Anne of Cleves' story is an interesting, upbeat one. Some say that she turned out to be one of the most fortunate of all Henry's wives. To learn more about Anne of Cleves, and to read all about their interesting first meeting, please click on the link below.
Anne of Cleves has three costumes, plus a doll dressed in underclothes.
If you want to see the doll image that is wearing clothes, as opposed to the traditional paper doll dress with tabs, click on one of the four pictures below. This will cause a larger version of the fully-dressed doll to display. You can then print out the doll from that page. When finished, hit your back button to return to this page.
Dressed Dolls
Below are the same costumes, with tabs in the traditional paper doll style, that you can put on the doll that is wearing undergarments. Select the dress you want to see, click on the small picture to expand it, and print the dress from that page.
Doll to Dress & Doll Clothes
New!! Now Introducing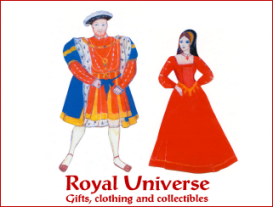 A unique new line of gifts, clothing, drinkware & collectibles, featuring Henry VIII & his six wives!
The six wives of King Henry VIII are now available on an exciting new line of merchandise! Visit the Royal Universe shop at www.cafepress.com to see the designs we offer on:
| | |
| --- | --- |
| | T-shirts & tank tops |
| | Tote bags |
| | Coffee cups, mugs, steins & coasters |
| | Mouse pads & note cards |
To see everything that we offer at our Royal Universe shop, click on the picture above, or on the link below:
To read more about Henry VIII and his wives, please click on the link below:
To return to the Henry VIII Paper Dolls Page, please click on this link:
To return to the Royal Paper Dolls Home Page, please click on the link below:
I