The Six Wives of Henry VIII
VI. Katherine Parr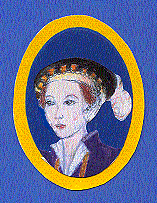 Katherine Parr was the sixth and final wife of King Henry VIII. She was Queen of England from 1543 until Henry's death in early 1547.
Katherine Parr had already outlived two husbands when she met Henry VIII. Many people envision Katherine Parr as an ancient crone because was twice-widowed, but she was actually quite young. She was just thirty-one when she married King Henry.
By this time Henry was in his early fifties. He suffered from various ailments, including a badly ulcerated leg, and wanted a nurse and companion in his old age. Katherine, who was intelligent, kind and attractive, was looking forward to marrying Jane Seymour's brother Thomas, when King Henry decided to seek Katherine's hand in marriage. Katherine had often been at Court with her late husband, Lord Latimer, and had known Henry for some time.
Katherine did not want to be King Henry's sixth wife. She knew what happened to unwanted queens in England. Furthermore, she was looking forward to finally marrying someone she loved. When Henry asked her to marry him, she answered that she would be his mistress, but not his wife. (Quite a switch from Anne Boleyn and Jane Seymour!) Henry would not take "no" for an answer, and he and Katherine Parr were wed in 1543.
Katherine temporarily put aside her dream of marrying her true love, and concentrated on being a good wife and stepmother. She adored her royal stepchildren Mary, Elizabeth and Edward, and the feeling was mutual. Katherine had a strong influence on the children's' education, especially that of Edward and Elizabeth.
Katherine was known for her love of scholarship, and for her interest in the emerging Protestant religion. Although the Church of England was not Catholic in the sense that it was no longer headed by Rome, it was virtually the same as the Catholic Church in most other ways. The true Protestant religions such as Lutheranism were a different matter. Many people were against the growth of the "New Religion" in England, and many were punished for their beliefs. Those who followed the new teachings had to tread carefully.
Katherine got along well with Henry, and proved to be an excellent nurse. She humored his moods and whims, and provided stimulating intellectual companionship coupled with gentleness and concern. However, she made enemies because of her religious leanings, and came dangerously close to trouble when she argued with Henry about religion. Katherine's foes tried to convince Henry to remove her, but her diplomacy saved the day. She was able to convince her husband that she was only trying to entertain him with interesting debate. He was appeased, but from then on, Katherine steered away from controversial topics with Henry.
Henry's marriage to Katherine Parr lasted until his death in January of 1547. Their union was, if not a true love match, an agreeable partnership. Katherine and Henry had grown quite fond of each other, and Katherine was saddened when Henry died. He was just 55 years old. That seems like an early age to us, but in those times peoples' lives were shorter, and Henry had been in failing health for some time.
At last, Katherine was free to marry Thomas Seymour. They were married in secret just three months after Henry's death. Unfortunately, she did not have much time to enjoy her long-awaited marriage to her sweetheart. In 1548, at age 36, she died shortly after giving birth to her first child. The baby, a daughter, was named Mary after Mary Tudor. Not long after, Thomas Seymour was executed for treason, leaving little Mary an orphan. Mary disappears from the historical records early in her life, and is thought to have died in childhood.
Katherine Parr is remembered mainly as the wife who outlived King Henry. Katherine's kindness and good sense helped to pacify Henry during his final years, which undoubtedly made life easier for his subjects.
Katherine Parr left her mark in other areas, too. Katherine was a strong influence on Henry's children Elizabeth and Edward, who were both exceptional scholars, and favored the new religion. She was also a strong advocate of women's learning. She took young women into her household, and helped them to develop their intellectual powers. Katherine herself produced some highly-regarded written works of religious and philosophical scholarship. In those times, when women's education was not stressed, and many women could neither read nor write, these were notable achievements.
Additional Reading About Katherine Parr
For additional reading about Katherine Parr, King Henry VIII, and Henry's wives and children, here are some books that may be ordered from Amazon.com.
To bring up the details about a particular book, please click on the underlined link beside the picture of the book you are interested in.

Henry VIII : The King and His Court by Alison Wier

Six Wives of Henry VIII by Alison Wier

The Wives of Henry VIII by Antonia Fraser

Divorced, Beheaded, Survived: A Feminist Reinterpretation of the Wives of Henry VIII by Karen Lindsey

The Autobiography of Henry VIII : With Notes by His Fool, Will Somers: A Novel by Margaret George

The Tudors (A Royal History of England) by Neville Williams, Antonia Fraser (Editor)

The Lives of the Kings & Queens of England by Antonia Fraser (Editor)

The Kings and Queens of England and Scotland by Plantagenet Somerset Fry, Peter Fry
To return to the Katherine Parr main paper doll page, please click on the link below:
To return to the Henry VIII's Six Wives Paper Doll Page, please click on this link:
To return to the Royal Paper Dolls Home Page, please click on the link below: