Lady Jane Grey
Queen for Nine Days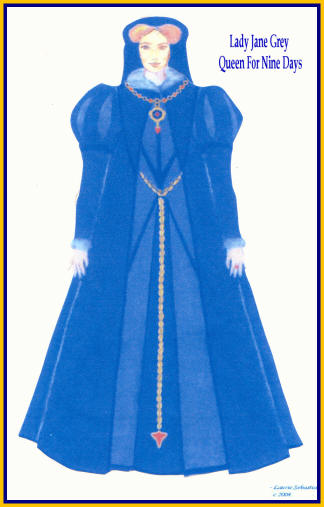 Lady Jane Grey is known for her brief reign as Queen of England during the mid-16th century. Lady Jane Grey served as England's queen for a span of nine days during the year 1553, prior to the reign of Queen Mary Tudor. At the time, she was only fifteen years old.
Lady Jane Grey was born into the Royal House of Tudor in October of 1537. Henry VIII was King of England at the time. Lady Jane's mother, Francis, was the daughter of Henry VIII's sister Mary. Because of her close kinship with Henry VIII, Lady Jane was in the line of succession to the English throne.
Jane Grey was known for her outstanding scholastic abilities, and for her devotion to the reformed Protestant religion. She was quite attractive, with red hair, freckles and pleasant features. She was reported to be gentle and graceful, with a remarkable intelligence, and a love of scholarship. As a child, Jane shared the schoolroom with her cousins Edward and Elizabeth, the son and daughter of King Henry VIII. Lady Jane and Edward, who had similar interests in scholarship and religion, became close friends.
In 1547, Henry VIII died, and Edward became King at the age of nine. Edward VI ruled England for six years, with the help and guidance of a council of powerful noblemen and ministers.
The young king Edward had never been particularly strong. By the spring of 1553, his health had declined to a point where it was clear that he did not have long to live. Henry VIII's oldest daughter, Mary, was next in line for the English throne. Mary, however, was a staunch Catholic, and hoped to bring England back to the Roman Catholic faith once she became Queen. Henry VIII had broken with the Roman Catholic Church more than 20 years earlier, and had declared himself head of English Church.
Mary Tudor's fervent Catholicism made her unpopular with many of the powerful English nobles, who supported the Protestant faith. To keep Mary from becoming Queen, a powerful faction of the Protestant nobility conceived a plot to place another member of the House of Tudor on the throne. This coalition was led by the Duke of Northumberland, John Dudley, who was one of King Edward's closest advisors. The conspirators wanted their next ruler to be Protestant, and preferably someone whom they could manipulate to suit their own aims.
Lady Jane Grey was John Dudley's final choice for the next Queen of England. Lady Jane was royal, a close relative of Henry VIII, and a staunch Protestant. In addition, she had the personal characteristics desirable in a monarch. Dudley envisioned ruling England through Jane Grey, who would be little more than a puppet Queen.
To consolidate his power, Dudley arranged for Lady Jane to marry his young son Guildford Dudley. Jane's parents, who supported the match, forced Jane to marry Guildford against her will. Lady Jane and Guildford had nothing in common except physical attractiveness, and it is unclear whether any romantic feelings ever developed between the two.
In July of 1553, John Dudley visited King Edward on his deathbed, and convinced him to declare his cousin Jane Grey as the next heir to the throne. Edward, a strong Protestant, signed the will that disinherited his sisters Mary and Elizabeth in the line of succession, in favor of the Lady Jane Grey. Edward died shortly after changing his will.
Immediately after Edward's death, John Dudley's coalition proclaimed the 15-year-old Lady Jane Grey as the new Queen of England. Lady Jane protested that she had no right or desire to take the throne from Mary Tudor, but her protests fell on deaf ears. She was presented to the people of London as their new Queen on July 10, 1553. The Londoners were taken aback, as Mary Tudor was recognized as the rightful heir to the throne. Few had ever heard of the Lady Jane Grey. Furthermore, there was little love for John Dudley, who engineered the scheme to deprive Mary of her Crown. Dudley was seen by many as a master manipulator seeking to advance his own aims, at the expense of the good of the country.
Queen Jane held her precarious throne for a total of nine days. Once she accepted the idea that she was Queen, she began to take her position seriously, and showed signs of independence and good judgment. However, she had few supporters beyond those who had plotted to make her Queen. Mary Tudor rallied and organized her own supporters, and led a fighting force to claim her throne. With most of the English people behind her, Mary's forces defeated Lady Jane's supporters, and Mary was declared Queen.
Lady Jane Grey was arrested and tried for treason, along with other participants of the conspiracy to take Mary's throne. Jane and her husband were found guilty of treason, and sentenced to death. Mary Tudor, however, realized that Jane had no active part in the plot, and decided to spare her cousin's life.
Lady Jane and Guildford Dudley were placed on house arrest in the Tower of London, in fairly comfortable accommodations. It appeared that Queen Mary might eventually pardon Jane and Guildford, and set them free to live their lives. However, that was not to be. Another plot against Mary Tudor was discovered. Unfortunately, Lady Jane's father was involved in this second conspiracy. This time, Mary's advisors insisted that as long as Lady Jane Grey was alive, Mary's throne would never be secure. Jane was too enticing as a potential figurehead for rebellions.
In February of 1554, Lady Jane and Guildford Dudley were executed for their role in the plots against Mary Tudor. Shortly before her death, Jane was given a chance to save her life by converting to Roman Catholicism. Jane refused this offer, holding fast to her Protestant religious beliefs.
Lady Jane showed great courage on the scaffold, and will be long remembered for her dignity and strength of character in the face of adversity. Her strong religious convictions and renowned scholastic abilities have kept her memory alive for centuries. Many believe that Jane Grey would have been a very good Queen if she had been able to keep her throne.
Lady Jane Grey's short, tumultuous life story is told in more detail on a separate web page. To find out more about Lady Jane Grey's life, click on the link below:
Lady Jane Grey Paper Dolls
The Lady Jane Grey paper doll is dressed in a linen chemise and a woolen petticoat. She has five costumes from the Tudor era, representing various periods of her life. A paper doll of Lady Jane's young husband, Guildford Dudley, is also included.
To print a costume or paper doll, click on the image that you want to see. This will bring up an expanded picture. You will then be able to print the doll or garment from that page.
Note: These paper dolls are provided for personal and educational use only, and not for commercial use.
To find books about the Tudors, please click on the link below:

New!! Now Introducing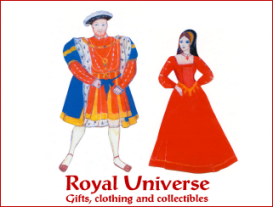 A unique new line of gifts, clothing, drinkware & collectibles, featuring Henry VIII & his six wives!
The six wives of King Henry VIII are now available on an exciting new line of merchandise! Visit the Royal Universe shop at www.cafepress.com to see the designs we offer on:
| | |
| --- | --- |
| | T-shirts & tank tops |
| | Tote bags |
| | Coffee cups, mugs, steins & coasters |
| | Mouse pads & note cards |
To see everything that we offer at our Royal Universe shop, click on the picture above, or on the link below:
To visit the Six Wives of King Henry VIII Henry VIII Paper Doll page, please click on this link:
To return to the Royal Paper Dolls Home Page, please click on the link below:
I