The Six Wives of Henry VIII
III. Jane Seymour's Story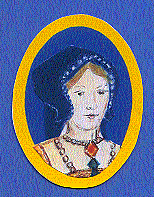 Jane Seymour was Henry VIII's third wife. She was Queen of England for a very short time, from 1536 until 1537.
Jane Seymour was a young noblewoman who served as a lady-in-waiting at Court. She was a modest, quiet, pale young woman in her mid-twenties when she caught King Henry's eye. She was a devout Catholic who was staunchly devoted to Queen Catherine and the Princess Mary.
Henry and his second wife, Anne Boleyn, were not getting along when he became interested in Jane. Jane was a total contrast to the striking, glamorous, turbulent Anne. Jane's talents lay in domestic areas such as sewing, gardening and housekeeping, rather than in art, music, scholarship and athletics.
Henry found Jane's company to be a comfort. As with Anne before her, Henry gave her gifts, and asked Jane to be his mistress. Jane turned him down. Jane hoped to one day marry a young man from another noble family, and wanted to preserve her virtue.
Henry was still hoping that his marriage to Anne Boleyn would produce a son. When Anne suffered one last miscarriage, and the child was determined to be a boy, Henry decided to replace Anne with Jane as his wife. To clear the way for a new marriage, Henry's councilors arranged to have Anne charged with, and found guilty of, treasonous adultery with several men. Anne was executed in May of 1536. Henry married Jane shortly afterward.
Henry found happiness in his marriage to Jane. To Henry's immense joy, Jane became pregnant soon after the wedding. She gave birth to a long-awaited son, Edward, in October of 1537. Sadly, Jane did not survive Edward's birth. She died of childbed fever soon after he was born. Henry was devastated by her death, and mourned her until the end of his life. This did not, however, stop him from marrying again (three more times).
Jane is remembered for being kind, gentle, pious and a good stepmother to Henry's eldest daughter Mary. She most likely would have made a very good queen if she had lived longer.
Additional Reading About Jane
For additional reading about Jane Seymour, King Henry VIII, and Henry's wives and children, here are some books that may be ordered from Amazon.com.
To bring up the details about a particular book, please click on the underlined link beside the picture of the book you are interested in.

Six Wives of Henry VIII by Alison Wier

The Wives of Henry VIII by Antonia Fraser

Divorced, Beheaded, Survived: A Feminist Reinterpretation of the Wives of Henry VIII by Karen Lindsey

Henry VIII : The King and His Court by Alison Wier

The Autobiography of Henry VIII : With Notes by His Fool, Will Somers: A Novel by Margaret George

The Tudors (A Royal History of England) by Neville Williams, Antonia Fraser (Editor)

The Lives of the Kings & Queens of England by Antonia Fraser (Editor)

The Kings and Queens of England and Scotland by Plantagenet Somerset Fry, Peter Fry
To return to the Jane Seymour main paper doll page, please click on the link below:
To return to the Henry VIII's Six Wives Paper Doll Page, please click on this link:
To return to the Royal Paper Dolls Home Page, please click on the link below: